---
SoundBody Healing

For those who wish to be fully present, feel great, and live in dynamic balance.
I believe you have the power to spark and support your own healing, and it is not about the wave of a magic wand. Through the integration of an array of healing therapies I provide creative healing solutions to help you live your best life.
I am expert at connecting you to your body's voice as a way to help you move through issues of body, mind and spirit for personal healing and empowerment.
With my unique and creative blend of bodywork, massage therapy, sound and subtle energy healing and Reiki, I provide the mind and body support you require to expand your perception and create lasting breakthroughs.
Accelerate to your next level of healing and growth; live in the "WOW"!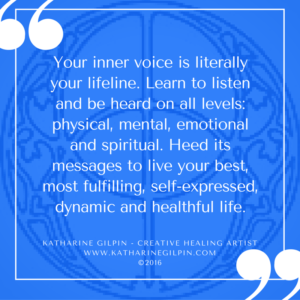 When Katharine completed her therapy session I felt as though my body had been completely heard from head to toe.
"I have been a body worker for years and there is always apprehension when it comes to allowing others to enter my dance-space. In this case, an immediate level of comfort and compassionate listening are the norm. Katharine's number one priority is to create a safe environment for skilled touch to be experienced while utilizing various skills and innate manual interactive talents. I will say that when Katharine completed her therapy session I felt as though my body had been completely heard from head to toe. I find her to be someone that enters your space with respect and a true heartfelt healing desire.
Massage therapy can be very mechanical, routine and mundane at times, especially to the practitioner. I can sense when the practitioner is going through the motions. Katharine's healing sessions are far from the once a month, glass of wine, chair massage. They are similar to how one feels upon seeing a deeply moving film. You leave the theater knowing that you were stirred at a deeper level. This is how the body should be treated and how I need to be addressed to truly let someone into my sacred space…"
Ian L. Rubinstein, M.P.T., M.R.
Owner – Eclectic Physical Therapy
Eclecticphysicaltherapy.com
To learn about Integrative SoundBody Therapy click HERE
To learn  about Musical Monochord Healing click HERE.
Call Katharine at 508.947.5348 to schedule your private session in Middleborough, Massachusetts.